Best Deals At Apple This Black Friday 2023
Check out great Apple tech deals this Black Friday 2023. Discover incredible discounts on iPhones, iPads, MacBooks, Apple TV+, AirPods and more. Don't miss out!
It's that time of year again where tech enthusiasts and Apple fans gear up for Black Friday to try and bag some of the best deals on the tech giant's range of products.
Whether you're looking to upgrade your iPhone, set yourself up with a new MacBook, or treat yourself to a new Apple Watch or some AirPods, Black Friday 2023 could be the perfect time to do it!
While Apple itself doesn't really take part in Black Friday sales - you're very unlikely to find any discounted products on the Apple store - in the past, Apple have instead provided gift cards on purchase that can be used at the Apple Store in the future, a move that it seems likely it will be repeating for Black Friday 2023.
While we're not entirely sure what the gift card scheme will look like this year, during Black Friday 2022, this is what customers could claim.
That said, if you do have your heart set on a discount on the Apple product you were just about to buy, instead of a future purchase, don't worry, there are plenty of third-party retailers who will almost certainly be running reduced pricing on Apple products for Black Friday 2023.
Where to look for Apple Discounts on Black Friday?
Although Apple itself doesn't normally provide discounted products via the Apple Store on Black Friday, third party retailers often do.
Which Apple Products will be discounted on Black Friday?
With a new range of iPhones, Apple Watches and MacBooks all recently launched, it seems pretty likely we'll be seeing discounts on products like the Apple Watch Series 9, iPhone 15 range, MacBook Pro and MacBook Air ranges, subscription services like Apple TV+, AirPods and other accessories - as well as big savings on some of Apple's older models including the iPhone 14 range.
We've picked out some of the most anticipated deals and discounts TOTUM members can expect on Apple products this Black Friday 2023.
1. iPhone Deals
Retailers typically offer significant discounts on the latest iPhones during Black Friday. Expect discounts on popular models like the iPhone 15, iPhone 15 Pro, and iPhone 15 Pro Max as well as great deals on some of Apple's older models. Additionally, there might be special trade-in offers, allowing you to get even more value for your old device!
2. MacBook Discounts
If you're in the market for a new MacBook, Black Friday is the time to strike. With discounts often available on MacBook Air and MacBook Pro models and iMac models, be sure to keep an eye out for bundle deals that include accessories or software packages too
The MacBook Pro 14-inch 2023 is one of the most powerful portable laptops money can buy, thanks to the new M3, M3 Pro and M3 Max chips from Apple, which deliver even faster performance and power efficiency than M2 and M1. Be sure to keep an eye out at third party retailers like Amazon, Curry's and John Lewis for great deals on MacBooks this Black Friday.
Here are some early deals we've picked out:
3. iPad and iPad Pro Savings
Apple's iPad lineup has something for everyone, from the accessible iPad to the powerful iPad Pro, Black Friday usually brings price cuts on various models, making it an excellent time to invest in a new tablet for work or play.
4. Apple Watch Specials
Fitness enthusiasts will be delighted to know that Apple Watch deals are a staple of Black Friday sales. Look for discounts on the latest Apple Watch Series 9, along with possible bundle offers that include additional bands or accessories.
5. AirPods and AirPods Max Discounts
Whether you're in the market for the classic AirPods or the noise-cancelling AirPods Max, Black Friday is a great time to grab a deal. Authorised retailers usually offer enticing discounts on these popular wireless earbuds....
Apple AirPods Pro 2022 - The latest AirPods released by Apple have largely maintained their price since release. However, you can find smaller deals from some retailers.
6. Accessories and Peripherals
In addition to Apple's core products, Black Friday often brings discounts on a wide range of accessories. This can include cases, chargers, stands, and more. It's a perfect opportunity to pick up those extra items you've had your eye on.
7. Software & Subscription Deals
Keep an eye out for discounts on Apple's software offerings. This could include savings on apps, subscription services like Apple Music, Apple TV+ or Apple One, and even deals on software for creative professionals, like Final Cut Pro and Logic Pro.
8. AppleCare+ and Extended Warranties
Black Friday may also see special offers on AppleCare+ and extended warranties. These can provide added peace of mind and protection for your new Apple products.
9. Educational Discounts
If you're a student or educator, Apple often extends additional discounts during Black Friday. This is a great time to take advantage of their education pricing and bundle deals.
10. Shop Smart and Plan Ahead
To make the most of any potential Apple savings this Black Friday, be sure to do your research beforehand. It's still worth checking out the Apple Store website, but the biggest savings are likely to found with third-party retailers like we've mentioned above.
Try to keep an eye on social media channels and tech news websites for any early announcements or leaks about upcoming discounts and remember that Black Friday deals can sell out quickly, so be prepared to act fast if you find a deal that catches your eye!
Remember to be cautious of unauthorised resellers and always purchase from reputable sources to ensure you're getting a genuine Apple product and if something looks like it's just too good to be true (even on Black Friday) then it probably is.
Hopefully these anticipated deals, have given you a decent heads-up and you'll be able to bag yourself some savings and enjoy all that Apple has to offer at a fraction of the regular price. Happy shopping!
NOTE: This article contains affiliate links, which will earn the site a commission if the product is purchased.
Join the TOTUM club!
Join TOTUM Student for FREE to access hundreds of student discounts on big-name brands like ASOS, Apple, MyProtein, boohoo, Samsung, and more!
Sign up for FREE, download the TOTUM app, and enjoy the latest offers, vouchers, coupons and more at your fingertips. Find out more.
Download The TOTUM App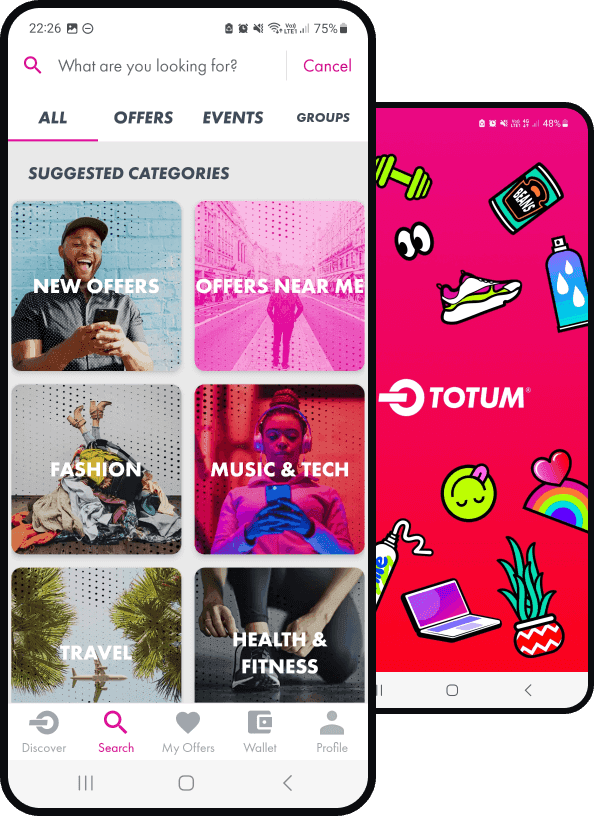 Stories like this
Best Samsung Deals Black Friday 2023

Don't miss out on Samsung's exclusive tech deals this Black Friday 2023. Discover incredible discounts on smartphones, tablets, TVs, smart home devices, and more. Don't miss out - explore Samsung's Black Friday deals now!

Best Time Management Apps 2023

Looking to try out a time management app to boost your productivity and get more done in less time? Here are some of the best time management apps for students and professionals in 2023...